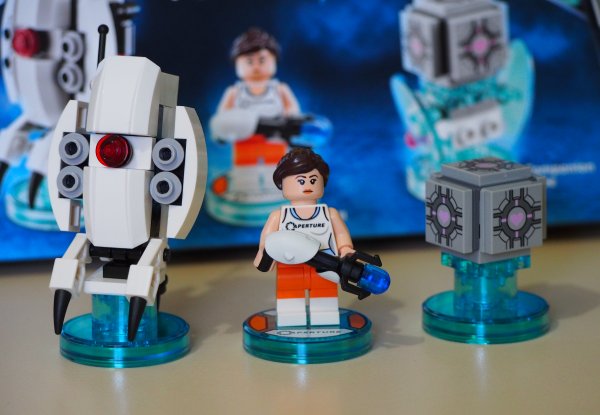 So LEGO Dimensions landed last week. It's LEGO's most recent computer game, and a major push for the company.
It's basically Skylanders of Disney Infinite but with LEGO. If you've never played those games (like me), the idea is that you collect toys that have special bases. You put these bases onto a pad that comes with the game and connects to your console, which lets you use those characters in the game.
So if you put your Aladdin toy on the pad, suddenly Aladdin appears in the game.
The other games come with figurines rather than actual toys - they look good on display, but you can't really play with them apart from the game.
LEGO Dimensions comes with actual Lego. Apparently you can change the models and that changes the in-game model too - but I'm not really sure how that works.
Anyway - I don't have the game, and don't really intend to get it unless it gets cheaper.
I'm not sure how the game will go - as the packs are quite expensive. Base game is over $100 (ranges from $100ish to $150 depending on store). The extra level packs can be quite expensive too. The Portal one is around the $40 mark.
Will it take off as a game? I dunno.
The thing that will sell well is the exclusive licensed packs.
For example, the Portal Pack.
As a huge fan of Portal and a huge LEGO nut, I couldn't resist picking up an official LEGO Portal set, even with the high price point for the number of pieces.
And judging by how hard it was to find this set, everyone had the same idea. I had to visit about 6 stores before I finally found one (the last one in stock) at JB HiFi.
I'm not sure how much this will help the game's sales though - as most of the packs aren't exclusives like this. There are Jurassic World packs, Lord of the Rings, Simpsons, Chima, Ninjago, LEGO Movie etc, but they all appear to be minifigs we've seen before, so they won't appeal to the collectors like myself, and might not sell quickly if at all.
There are some more desirable packs coming up in future waves (some new Ghostbusters figures, Dr Who etc), but it remains to be seen how successful the game itself is.
In the meantime, I've got myself some Portal LEGO, so I'm happy.
And just for comparison, here is a Dinsey Infinite figure I got cheap a while back.