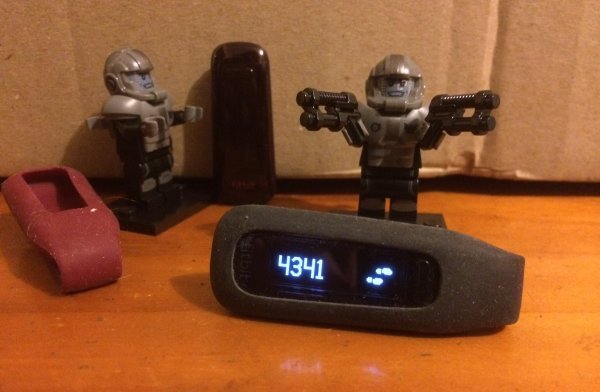 Brand names can be funny things.
There are some supposedly 'cool' brandnames that would turn me off entirely. I'd never buy anything with Beats Audio or Skullcandy etc and my opinion of Apple is well known. On the other hand, I am a fan of GoPros. Brandnames carry weight, wether good or negative.
One brandname that's quite popular at the moment is Fitbit.
A Fitbit is basically just a pedometer, aka a step counter. It tells you how many steps you've taken on a given day. The Fitbit is a little smarter than the cheap ones, and can be accessed by an app on your phone, but it's still a step counter when you get down to it.
I got one for my Birthday, and was getting a fair bit of use out of it. Having something record your steps is an incentive to keep walking - which is always a good thing.
Anyway - much as I was enjoying mine, I wasn't entirely sure that the Fitbit brand deserved all the hype and premium price point - until mine went through the wash.
It was my own fault - I was rushing one evening and forgot it was still in my pocket.
After it's trip through the machine, it was very clean - but rather useless.
I left it for a day in rice trying to dry it out - but it would only start up when connected to the charger and didn't have any battery life at all.
So as it was my fault, I figured that was that. But the troubleshooting guide said that if the rice trick didn't work, to contact Fitbit for advice, so I did.
To my great surprise, the Fitbit support team got back to me and said they'd replace it if I could get them the receipt.
Even though it was my own daft fault - they'd give me a new one!
As it was a gift from my folks, I asked if they still had the receipt. Unfortunately my Mum's got a thing about keeping her inbox empty and had deleted it, but she did manage to track down the paper delivery docket (why you'd keep that and delete the email I'm not sure). Once again Fitbit surprised me by accepting the docket as evidence - and they sent me the new unit.
Now this means two things:
1: the actual device costs Fitbit very little compared to the retail price
2: Fitbit support rocks.
So I'm once again counting my steps - and I've decided the Fitbit is one brand I'm happy to support.