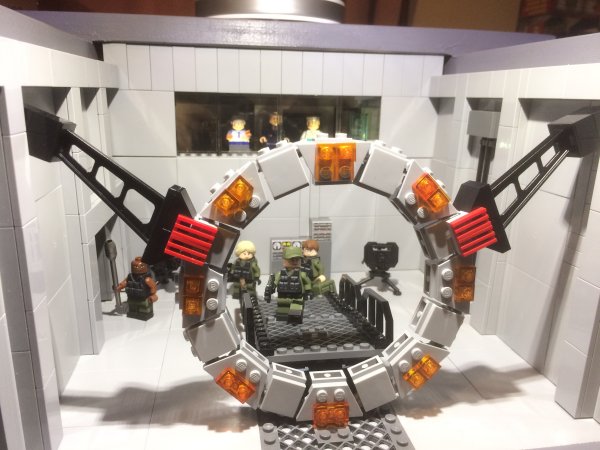 Good Morning Campers,
So - this was my main MOC for Brickvention 2017.
It's not overly large, but I'm quite proud of it.
For anyone who is unfamiliar, that's the gate-room from StarGate Command (from the tv show Stargate).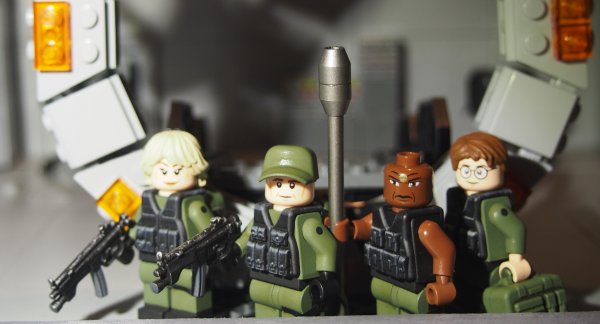 The story of this MOC (which is LEGO for My Own Creation - it means a creation that wasn't built from instructions) starts at Brickvention last year.
I was doing my check of the sellers stalls before I decided where to spend my money, and I saw a group of custom SG-1 minifigs. I decided to buy them, but did another lap of the stalls first, and by the time I got back, they were gone.
So that would have been the end of the story, except the guy behind the stall was the guy who'd actually painted the figs, and he offered to do me a set on commission. Brilliant.
So a couple of months later, my minifigs arrived, custom painted by Terry Jeffries. Awesome job mate, thanks again!
All I had was the SG-1 team at this point, but they were awesome. They made a brief appearance in Brendon's Endor layout at one of the Tassie shows (very few people noticed them - the camouflage uniforms were working) - but I had bigger plans.
You can't have SG-1 without a Stargate!
So I did a heap of Googling to see how other people have done Stargates in Lego.
There are many different approaches that people have taken. Some very awesome ones actually spin, but those are in totally the wrong scale for minifigs. In the end, mine is based on an idea by a guy called Yatkuu. It's not identical, but it's pretty close.
So that gave me the team and a stargate - the next time they appeared on Endor they had a stargate, and suddenly people were pointing them out.
But I wanted more than a gate - I wanted to do a display of Stargate Command.
That's not an original idea either - quite a few people have done gaterooms, to better or lesser results. No one had done quite what I wanted to do.
I wanted to look up through the gate towards the briefing room. This is backwards to the most common angles from the TV show, and backwards to all the MOCs I could find.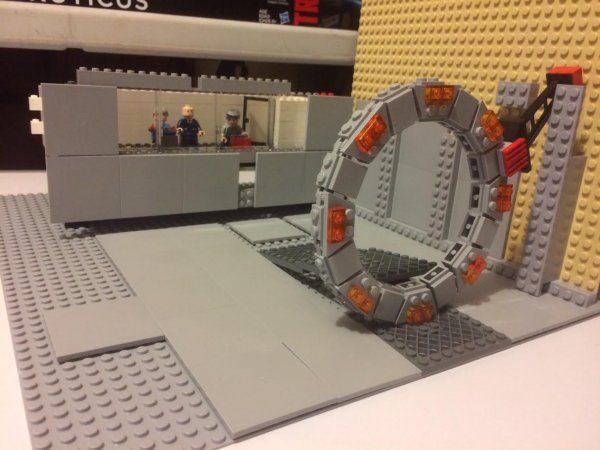 I started prototyping. I wanted to save money by using baseplates for the walls and supporting it all with timber. I wanted the walls to have texture though rather than just being flat - so it took quite a while to get it all sorted.
In the initial prototypes, the briefing room was much lower than it ended up.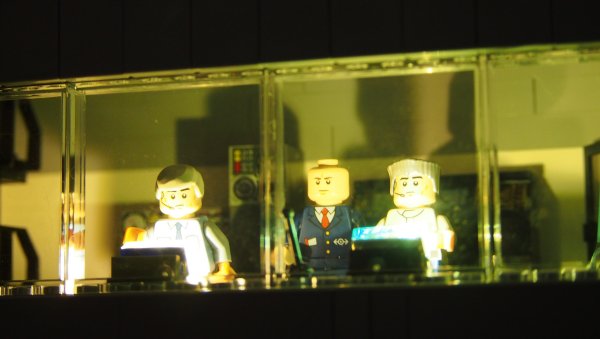 I didn't have any minifigs for General Hammond and the technicians, so they were scrounged together. General Hammond is wearing a train conductors uniform, but it looks enough like an airforce uniform that I think it works.
I also installed some lights from lightmybricks (https://www.lightmybricks.com.au/) to light up the computer panels and give the control room some light. This makes the guys inside visible, and I think it gives a nice effect.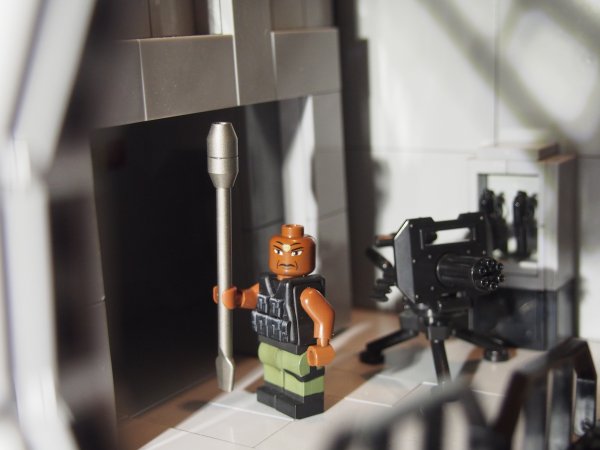 I also wanted to build the door to the corridor open - so although it's next to impossible to see in that photo, the door is open and there's a small section of corridor inside. I should probably add some lights in there too...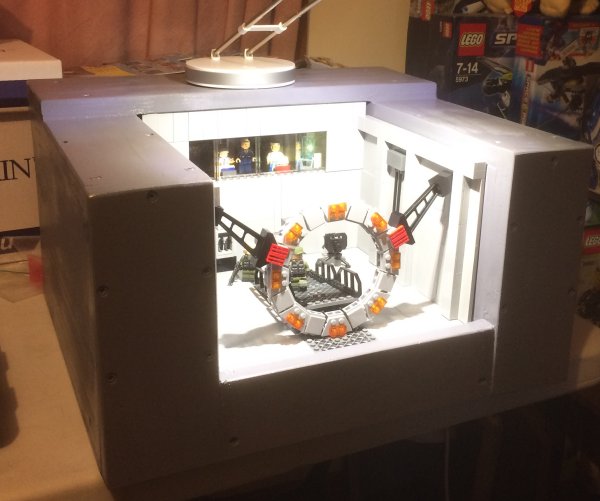 The timber frame had to be solid enough to protect the display during transport and storage, and the wings had to be large enough to include the hidden corridor on the left side. Determining just how large to make them took a surprisingly long time and a number of prototypes before the final timber construction project.
It wouldn't have been too bad - but when I was finishing this MOC off ready for Brickvention, Emma and Turks were renovating their house and had custody of most of my tools - so I had to do a couple of trips to Burnie to finish off my project (amongst the other trips to help them - I was in Burnie a lot for a few weeks!)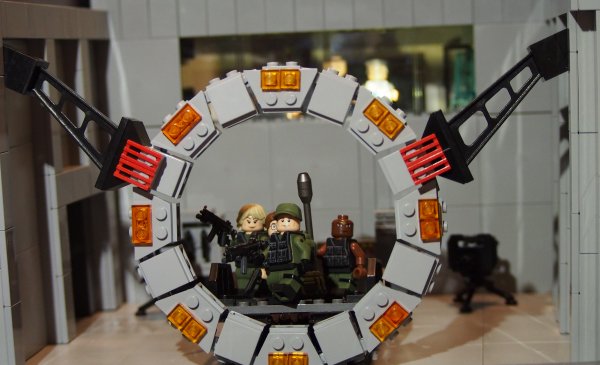 So that's my Stargate.
It was on display in Brickvention in Melbourne and got a lot of positive comments and had it's photo taken MANY times.
I've discovered that kids have no idea what Stargate is and all assumed it was something from Big Hero 6 or the Flash, but 90% of parents knew what it was. Even Luke McGregor (from Rosehaven and Utopia) came to check it out.
Dial the gate - I'm out of here!