Project Mara MKII
Author: jawapro
Date: Thu 15/12/2005 09:18 PM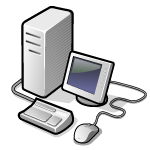 Today was the official launch of project: MARA MKII
This is a fancy way of deciding I am going to upgrade my computer, and turn the current one into a server for hosting media files.
The new JadesFire (my main PC) will be the best I can afford at the time. This is now where I will be channelling my savings.
The current JadesFire (AMD 1600) will become the new Mara (my main server). It will be given some new Harddrives to hold all the stuff, and a Video card with a decent TV-out capability. This means I´ll be able to plug it straight into the tv.
The current Mara (only a P3) will probably be kept as a unix server, but given a new name. Any ideas for the name for this server, let me know.
JP
Comments: 1